Back in November I promised to write a guide to my week in Devon. Unfortunately after writing up
Day One
my hard drive died and I lost all my work. However I've decided now is time to try and carry on this look at our week down South.
On Day Two we left Exmouth again to journey to Paignton. I had visited this small town with my parents in 1995 and looked forward to returning. Our first stop was
Paignton Zoo
. I was sceptical at first, the last Zoo visit with my girlfriend had been a sheer disappointment however Paignton Zoo was far far superior. The animal enclosures were large and sprawling with good viewing areas. The animals seemed happy and there was plenty of information dotted around the park. The park itsself was modern and tranquil, a haven for wildlife and a novel approach to exhibiting the wildlife meant you could actually walk through some enclosures.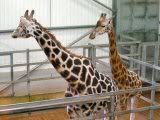 The zoo was established in 1923 and in the last 10 years has changed dramatically to display animals and plant-life in six different naturalistic habitat areas. What also amazed me were some houses that backed right on to the zoo. How amazing must it be to throw open your bedroom curtains every morning to be greeted by grazing camels or the chatter of monkeys!
Following our Zoo tour we journeyed into Paignton. It seems my childhood memories of a sunny smiley seaside town were somewhat hazy. We were greeted with a grey dreary rundown town. The main street I remembered as a parade of shops topped of by a
railway cutting
past Woolworths turned out to be row upon row of tacky novelty shops. When I was 15 it seemed cool to have a train blocking the top of the road every ten minutes. Now it seemed an annoyance. We trekked through the town and found the watering hole, The Inn On The Green, that I fondly remembered utilising with my parents. Sadly they didn't serve afternoon meals so hunger forced us to the nearest KFC.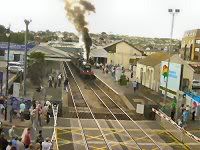 As the skies open and fatigue from the long walk around the Zoo took a hold we decided to head back to Exmouth. A flash of inspiration halfway home found us journeying into Exeter in search of the Megabowl. We spent a fun hour bowling in a very nice bowling centre before returning to the hotel for a boozy evening in the bar.