On our forth day in Devon we decided to do what we'd hoped to do on that holiday all along. Have a rest. With both of us working in retail/leisure industry and Xmas only weeks away we knew it'd be the last time we could have a lazy day for a few weeks.
In the morning we headed into
Exmouth
via a long walk down the beach and explored the town. We'd accidentally smashed a bowl in our hotel room so wandered around for a replacement and looked at all the shops. Poppies littered the war memorial in the centre of the town just a few steps away from the lovely "Powder Monkey" Wetherspoons pub. We bought rock, some Xmas presents and a few trinkets for friends back home. It's weird how sometimes you visit towns that seem to be stuck a decade behind the rest of the country. Cornwall is the guiltiest of this but Exmouth seemed to be one of these places. Local shops outnumbered big brand shops though the redevelopment of Exmouth Marina seemed to be pulling the town into the twentieth century. The houses around the marina were fantastic and if it wasn't for the town feeling so isolated from society I'd be tempted to live there.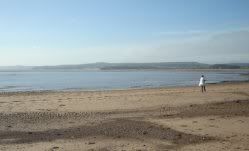 In the afternoon we spent our time in the Deer Leap seafront pub watching the land lord putting up Christmas decorations and having a tipsy game of pool. The evening was spent back at the Hotel playing Bingo and reading. At this point we both started to grow concerned about the amount of hideous Christmas decorations that were starting to appear throughout the hotel… more on these scary items soon!
See
Exmouth Webcams
- Live!
Devon Guides:
Day 3
Day 2
Day 1