This was our busiest day. Following breakfast we headed down the A380 towards Torquay & Paignton once more. Our first stop was Babbacombe Model Village founded by T.F. Dobbins in the mid 60s this village is an idyllic miniature tribute to the English way of life. Everything is depicted from small villages to large city centres. There's a football stadium and cricket pitch – there's even a hydroelectric dam. The craftsman ship is wonderful and while it didn't keep two twentysomethings occupied for long I'd love to revisit this attraction with children and see it through their eyes. We visited on a rainy day but as you can see from the
website
it seems a sunny day would further enhance the attraction.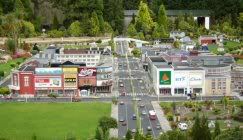 The second visit of the day was to
Bygones
– a life-size Victorian street. Sadly it was also the most disappointing. First off the street its self is amazing. Hand crafted and constructed in an old cinema it recreates a typical Victorian Street in just about every detail. But apart from this the exhibition doesn't offer much. It has loads to look at but doesn't actually tell you much about what you're looking at. (Even the website offers a history of the museum its self on the second page - before offering visitor info!)
When you leave the street you progress into an exhibition of Railwayana, There's fantasyland which doesn't fit in at all with the rest of the museum and is a garish display of UV and kitsch. Finally there's the WW1 display which was fascinating to look out but again lacked explanation. What was littered throughout Bygones was gushing self-tributes by the museum creators. While I have no doubt a lot of time and effort went into the project that's not actually what I'm there to see. I wanted info about Victorian life, not how long it took to build the replica. I don't want to know how wonderfully supportive your wife was throughout. I want to see accounts of real Victorians. Descriptions of what the items I'm look at actually are. When they were made etc…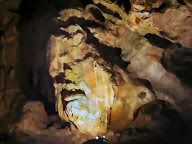 Our third visit was just down the road.
Kents Cavern
in Torquay. I'd never visited underground caves before. Wasn't quite sure what to expect of wandering around some rocks for an hour. Thankfully I was blown away. The sheer magnitude of this natural exhibition was amazing. Yes there were tributes to the owners – The Powe family but unlike the Bygones Museum this seemed relevant and was balanced with a lot more info about the caves themselves. The caves served to truly awaken you to the insignificance of your time on earth. The fact they have been around for two and a half million years and are still developing is humbling. There was evidence of previous inhabitants both human and otherwise. The guide was enthusiastic yet explained complex theories in an easy to understand way – a gift shared by the best of teachers and Johnny Ball! I was stuck in with a group of Japanese tourists and while I loath blatant stereotyping I have to admit their constant taking of photos very annoying. Afterwards the guide even apologised for it saying he's sorry but they took so long that he had to miss a bit out. He took time to tell us some extra info to make up for this. Out of our three trips I would recommend the Caverns the most.
After a tiring day we returned to our hotel to take part in a pub quiz hosted by a very miserable bloke who sounded like Joe Pasquale. I am ashamed to say, considering I'm a pub quiz host myself, we didn't do well… Do'h!
Devon Guides:
Day 2
Day 1